Why Ticketless Parking Matters
Posted 16 October 2017, UK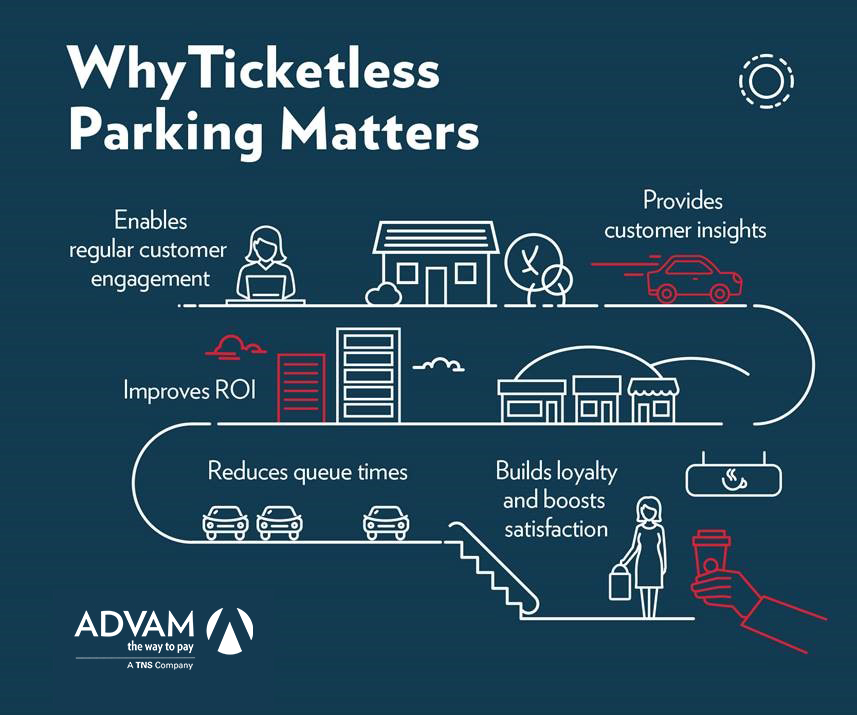 To many parking customers, the term 'cashless parking' is often associated with mobile phone payment options that are heavily discredited by the media for being inconvenient. But despite this, parking operators across the globe are quietly and quickly embracing cashless parking solutions. Such a discrepancy between what cashless parking is understood to be and its high desirability not only calls for some much-needed justification, but it also begs the following question: what is cashless parking, and why does it matter?
In 2017, achieving competitive advantage no longer lies in employing technology based on its symbiotic relationship with consumers, but now depends on a business' ability to exceed technological expectations and create value for customers in ways that they didn't know were possible. As such, the solution for a frictionless parking future is becoming more and more apparent.
The Difference Between Cashless Parking and Ticketless Parking
Cashless parking refers to a parking payments system that does not require physical money to complete a transaction. Cashless solutions are commonly deployed throughout city council parking lots and on-street parking facilities, and often have credit/debit card terminals or pay-by-text systems in place for accepting payment.
Ticketless parking, however, is considered to be the evolution of cashless parking: not only do ticketless parking customers no longer require cash to complete their transactions, but they also don't require a parking ticket. While ticketless parking is most popularly used across off-street parking facilities and multi-storey car parks, it is an ideal solution for any parking area that has an identifiable entrance or exit.
How Does Ticketless Parking Work?
Ticketless parking employs any suitable identifier, such as radio-frequency identification (RFID) or license plate recognition (LPR) technologies, to distinguish a parking customer as they approach the car park entry. After capturing this data, the access control equipment grants the customer entrance into the car park where they can proceed to find a parking space.
When the customer is ready to leave, they simply drive straight to the car park exit. The same recognition software used at the entrance calculates the motorist's length of stay and assigns their parking fee to their registered online parking account, relinquishing the need to present a payment card or find a ticket machine.
What If a Customer Doesn't Have an Online Account?
For customers who don't have an online parking account, they have the option to either make a cashless payment at the terminal situated by the exit gate, or they can create a new account before entering the car park. Motorists can do this by visiting the parking operator's website and registering their details using the mobile-friendly online platform.
Is It Secure?
Whether parking customers make their transaction through their online parking account or at the car park exit, all payments are processed through ADVAM's PCI DSS Level 1 gateway, meaning that your customers will receive the highest level of payment protection available.
As for ADVAM clients, transactions that pass through ADVAM's secure gateway are transferred reliably and directly into their acquiring bank of choice, removing the need to handle, process or transport cash.
What Does Ticketless Parking Mean to Parking Customers?
To motorists, ticketless parking means not needing to locate and interact with parking payment machines, no longer having to risk losing or misplacing parking tickets, and getting where you need to be more quickly and easily. Our clients can also empower their parking customers with flexible payment options (such as pre-pay, top-up and PAYG), the ability to track their parking activity online, and the option to connect multiple vehicles to one account.
For parking operators looking to provide even more benefits, there's also the option to explore ADVAM's online parking reservation platform, AltitudeReservation: a powerful tool which allows customers to pre-book their parking time and space, and enables parking operators to more effectively manage their car park's occupancy and yield.
Why Does Ticketless Parking Matter?
Not only does ticketless parking save your customers time, energy and petrol, but it also introduces a whole new realm of possibilities and benefits to your business:
Know your customers through an understanding of who is parking, for how long, how often and when
Provides a platform to engage with your customers using the online platform
Link to loyalty programs, introducing opportunities to reward, incentivise and improve customer loyalty
Reduce queue times and minimise car park traffic
Deliver a frictionless customer experience and boost overall satisfaction
Improve ROI by eliminating paper tickets and cash-handling costs